Unleash Your Digital Dominance in 2023: Acquire the Pinnacle of Digital Marketing Proficiency! Elevate Your Online Business with Vital Skills. Attain the Esteemed Title of a Certified Digital Marketing Virtuoso (CDMV) through Our Exclusive Half-Year Immersive Course in Lucknow.
Please fill-up the form below to
receive a call from an expert.
Six Months Advanced Digital Marketing Course In Lucknow
Check out our updated syllabus with 90+ topics!
Open the toggles
below to expand the topic.
*The above topics are applicable only to the six-month and nine-month digital marketing courses in Lucknow. Compare all courses in the comparison chart provided.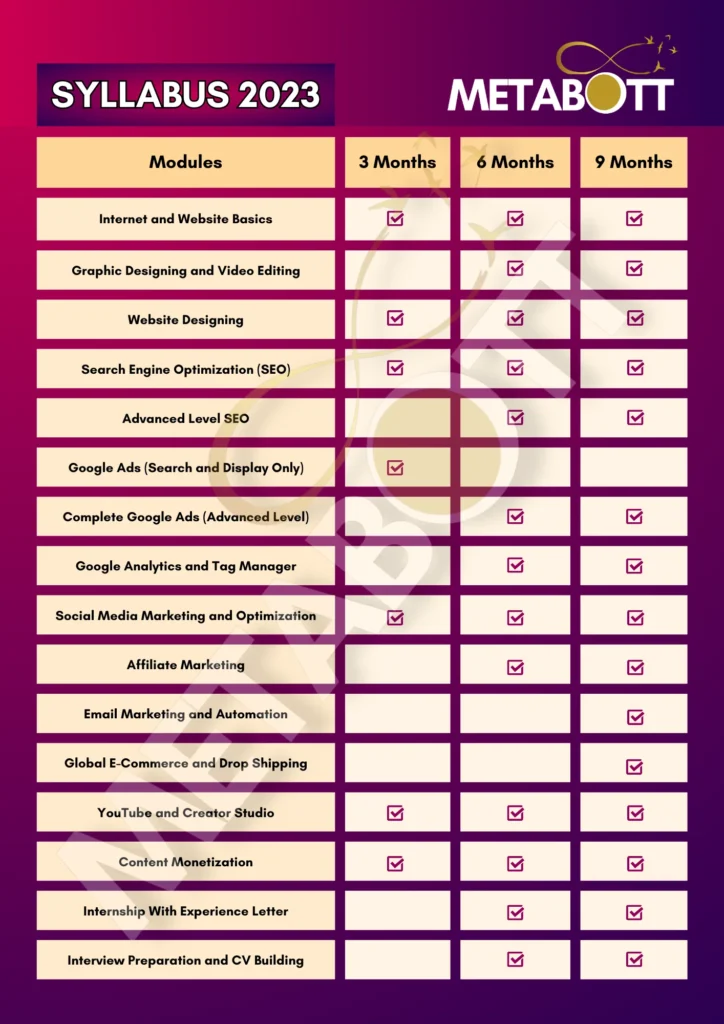 Embark on a Transformative Journey with the Six-Month Digital Marketing Course at Metabott Digital Marketing Academy in Lucknow
In today's rapidly evolving digital landscape, mastering the art of effective digital marketing is no longer just an option – it's a necessity. Businesses, big and small, are vying for online visibility and engagement, making digital marketing expertise a highly sought-after skillset. At Metabott Digital Marketing Academy in Lucknow, we present a unique and comprehensive Six-Month Digital Marketing Course that will empower you to navigate this dynamic realm with confidence and finesse.
Course Highlights:
Holistic Curriculum: Our meticulously crafted curriculum covers every facet of digital marketing, ensuring you gain a well-rounded understanding of the field. From search engine optimization (SEO) and social media marketing to pay-per-click (PPC) advertising and content strategy, our course equips you with the essential skills needed to excel in the digital landscape.
Industry Experts as Mentors: Learn from seasoned professionals who have successfully navigated the digital marketing landscape. Our expert mentors bring real-world experience to the classroom, offering invaluable insights and practical tips that go beyond textbook knowledge.
Hands-On Experience: Theory is important, but practice makes perfect. Throughout the course, you'll engage in hands-on projects and real-world simulations, giving you the opportunity to apply your knowledge and refine your skills in a controlled environment.
Personalized Learning: We understand that each student's learning pace and style are unique. Our small class sizes enable personalized attention, fostering an environment where you can ask questions, engage in discussions, and receive individualized guidance from instructors.
Certification: Upon successful completion of the course, you'll earn a prestigious certification from Metabott Digital Marketing Academy, showcasing your proficiency in digital marketing strategies and techniques.
Networking Opportunities: Connect with like-minded individuals who share your passion for digital marketing. Our academy provides a platform for networking, collaboration, and potential partnerships that can extend beyond the duration of the course.
Cutting-Edge Tools: Stay ahead of the curve by gaining hands-on experience with the latest digital marketing tools and technologies. From analytics platforms to automation tools, you'll be well-equipped to handle the ever-changing digital landscape.
Why Choose Metabott Digital Marketing Academy:
Metabott Digital Marketing Academy stands out for its commitment to providing quality education and practical skills that translate directly into the real world. Our industry partnerships, up-to-date curriculum, and hands-on approach set us apart as a premier institution for digital marketing education in Lucknow.
Whether you're a budding entrepreneur looking to establish a strong online presence or a marketing professional aiming to enhance your skillset, our Six-Month Digital Marketing Course offers the perfect blend of theoretical knowledge and practical expertise.
Enroll Today:
Seize the opportunity to elevate your digital marketing prowess and pave the way for success in the digital age. Join us at Metabott Digital Marketing Academy in Lucknow for an immersive and transformative Six-Month Digital Marketing Course. Your journey toward becoming a digital marketing expert starts here.
Call us at 8765028369 to learn more and secure your spot in the upcoming batch. Embrace the digital revolution with Metabott!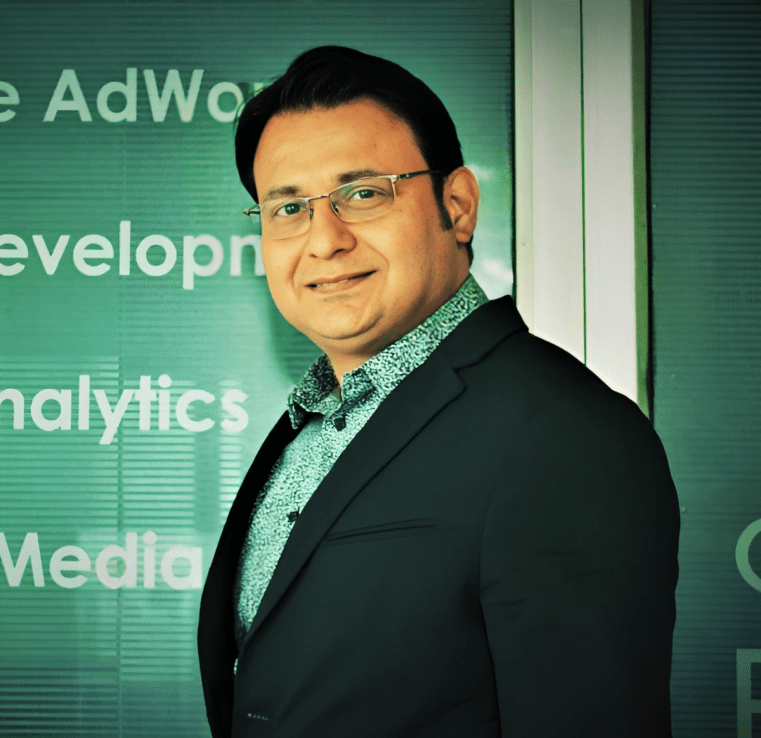 Meet Saurav, a distinguished Digital Marketing Leader and Mentor based in Lucknow. With over 18 years of experience, he has trained more than 1500 students and professionals and led "Metabott" to become a leading institute in Lucknow.
His expertise spans Digital Marketing, Client service, Business Strategy, Team Leadership, and Corporate Communications. An MBA graduate from IGNOU New Delhi, Saurav's dynamic career includes working with esteemed companies like Hutchison Essar, IBM Global, and Sprint Nextel Corporation USA.
Frequently Asked Questions (FAQ)
MetaBott DigiServ Private Limited (METABOTT Digital Marketing Academy) is recognized by the Department for Promotion of Industry and Internal Trade (DPIIT) of the Government Of India under the Ministry of Commerce and Industry in India. Moreover, Metabott is also accredited by the Ministry of Micro, Small, and Medium Enterprises (MSME), Government Of India.