Three Months Rapid Digital Marketing Course In Lucknow
Master Internet Marketing in 2023: Learn the Essential Skills to Grow Your Business Online. Become a Certified Digital Marketing Expert (CDME) with Our Comprehensive Digital Marketing Course In Lucknow.
Accelerated 3-Month Digital Marketing Course in Lucknow by Metabott
Introduction: 
Are you ready to take your digital marketing skills to the next level? Look no further! Metabott presents an intensive and comprehensive 3-month Rapid Digital Marketing Course in the vibrant city of Lucknow. Designed to equip participants with the latest tools, strategies, and techniques in the ever-evolving digital landscape, this course promises to transform beginners into skilled digital marketing professionals.
Course Overview: 
Metabott's 3-month Rapid Digital Marketing Course is a dynamic and hands-on program tailored for individuals seeking to establish a strong foundation in digital marketing or enhance their existing knowledge. Whether you're a recent graduate, a business owner, or a working professional looking to switch careers, this course caters to all backgrounds.
Course Highlights:
Strategic Curriculum: Our meticulously designed curriculum covers the core aspects of digital marketing, including Search Engine Optimization (SEO), Social Media Marketing, Content Strategy, Email Marketing, Pay-Per-Click (PPC) Advertising, Analytics, and more.

Expert Faculty: Learn from industry experts with proven track records in the digital marketing arena. Our instructors bring a wealth of real-world experience to the classroom, providing insights into the latest trends and best practices.

Practical Approach: Theory comes to life through hands-on projects, case studies, and interactive sessions. Gain practical experience by working on live campaigns, creating content, and implementing strategies in a simulated environment.

Industry-Relevant Tools: Get acquainted with the tools that drive success in digital marketing. Learn how to use analytics platforms, keyword research tools, social media schedulers, and other industry-standard software.

Personalized Feedback: Benefit from personalized feedback on your projects and assignments. Our instructors guide you towards improvement and ensure you're grasping the concepts effectively.

Networking Opportunities: Connect with fellow participants, instructors, and guest speakers during workshops and seminars. Build relationships that could potentially lead to collaborations or career opportunities.

Certification: Receive a recognized certificate upon successful completion of the course. This certificate validates your skills and showcases your commitment to staying ahead in the digital marketing realm.

Career Support: Metabott is committed to your success. Gain access to career counseling, interview preparation, and job placement assistance to kickstart your journey in the digital marketing industry.
Course Structure:
Month 1: Digital Marketing Fundamentals
Month 2: Advanced Strategies and Specializations
Month 3: Real-world Application and Capstone Project
Benefits of the Course:
Practical Approach: Hands-on exercises, case studies, and real-world projects provide practical experience.
Industry Expertise: Learn from experienced industry professionals and guest speakers.
Updated Curriculum: Stay up-to-date with the latest trends and techniques in digital marketing.
Networking Opportunities: Connect with fellow participants and industry experts.
Career Advancement: Enhance your job prospects or take your business to new heights with digital marketing skills.
Conclusion:
Embark on a transformative journey in the world of digital marketing with Metabott's 3-month Rapid Digital Marketing Course in Lucknow. Acquire essential skills, gain practical experience, and open doors to exciting career opportunities in the fast-paced digital landscape. Don't miss your chance to become a proficient digital marketer. Enroll today and pave your way to success with Metabott!
If you're serious about learning digital marketing, then you should consider enrolling in a course at METABOTT Lucknow. With the right education and training, you can launch a successful career in this growing field.
Check out our updated syllabus with 90+ topics!
Open the toggles
below to expand the topic.
*The above topics are applicable only to the six-month and nine-month digital marketing courses in Lucknow. Compare all courses in the comparison chart provided.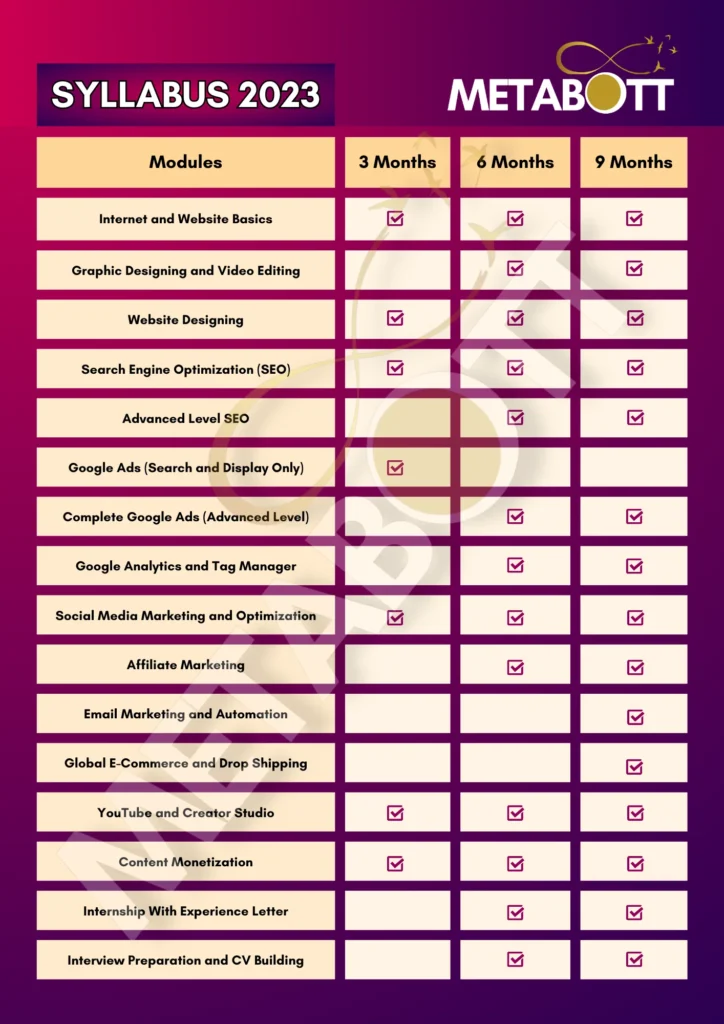 Frequently Asked Questions (FAQ)
MetaBott DigiServ Private Limited (METABOTT Digital Marketing Academy) is recognized by the Department for Promotion of Industry and Internal Trade (DPIIT) of the Government Of India under the Ministry of Commerce and Industry in India. Moreover, Metabott is also accredited by the Ministry of Micro, Small, and Medium Enterprises (MSME), Government Of India.